Where individuals work together
The Design Office was founded by John Caserta in 2007 to answer the creative needs of independent designers by providing office space, shared equipment, community and resources. In addition to providing the essentials, it initiates and supports collaborative projects and proposals.
Our workspace takes its cue from the optimism of early Modernism, which showed how good design could encourage playful collaborations
Our name
'The Design Office' describes what we do, and where we do it. It is inspired by the industrial age, when generic company names like Allied Metal Works communicated earnestness, focus and transparency.
Sarah Rainwater
A place for makers
Filled with books, process material, finished projects, members and visitors, the Office is a space where those who love what they do come to get their best work done.
Sarah Verity
Common spaces allow for impromptu sharing and planned collaborations
Sarah Rainwater
Uncommissioned projects
Office members tend to have a balanced practice — accepting commissions and initiating projects. There is a history and culture of members making prototypes, seeking funding, finding collaborators and locating venues for their ground up projects.
Renee Walker
Anastasia Congdon, Greg Nemes and Nic Schumann designed and built our desks.
More on this project
Designing the space
The organization is a design project. How can the space encourage interaction while protecting individual momentum? How does the Internet contribute to what is primarily a physical community? These questions, among others, result in findings that may interest others, too.

The 204 Westminster building sign was designed in 2012 by Anther Kiley and John Caserta to welcome and connect other arts organizations in the building. The building is a larger incarnation of the Office itself — a diverse, but connected group of creatives.
No logo
We've resisted a single logotype or mark. The building itself remains the inspiration for our 'look'. Built in 1887, the Gaspee building has evolved to suit a range of tenants. The typography and architectural details changed to suit the era. Hand lettered signs mix with utilitarian industrial metal type. We vary the fonts we use, but attempt to have them match more than not.
History
John was working in a home office on the East Side of Providence and had discussed this idea previously with colleagues in San Francisco when freelancing there in the early 2000s. Providence made for an ideal site, with affordable space and quite a few independent practitioners. With his graduate school experience as a model — where a motivated group works alongside each other at a high level, but mostly on their work, with opportunities to share and collaborate as needed. In October 2007, John took on a lease at 204 Westminster on the 4th floor, and was joined soonafter by Jori Ketten and Rebecca Macri.
By 2008, the name, the website and some momentum was building around the idea. In 2012, there was enough demand and the opportunity to quadruple the footprint by moving to the 3rd floor of the building. More space meant not only more members, but a proper production table, space for events, a communal library and enough room for growth.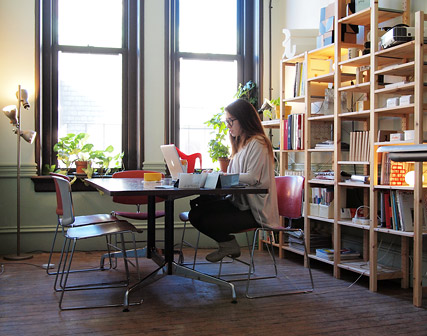 The Design Office inhabited a smaller space on the 4th floor of 204 Westminster from 2007 until 2012.
About the website
This website was designed and developed by John Caserta, with assistance from Wes Adams. This third incarnation of the site uses a custom CSS Flex framework that shift compositions as the browser window changes. Although there is much discussion around having websites work on every device, we found a more interesting theme within this need. Does every possible composition need to be aesthetically pleasing? Is there an ideal size? How much control is it possible to give up to still have the layout be successful?
A website is always a group effort, with any site making use of other people's code, typography and best practices. Here is what we used:
Renee Walker